The Life of 3-time World Beat Box Champ Michel "!Meeshell!" Lavergne
The Early Years
Michel Lavergne was born on May 11th 1968 in Winnipeg, Manitoba, Canada. Most people in the beatboxing community know him by his stage name of "!Meeshell!". Before gaining internation notoriety and bringing to life the art of beatboxing, Michel Lavergne led a very busy life. He began his schooling at Ecole Lacerte in Winnipeg and the completed highschool at College Gabrielle Roy in Ile-des Chenes, Manitoba. Despite going to school in a rural town, Michel Lavergne had big city ambitions. Many would have predicted that his career path would have led him to professional sports. His on ice accomplishments with his Junior B team in the '80s attracted several National Hockey League scouts to practices and games. Despite his intensity, leadership, finesse and no-fear style of play, concensus among NHL scouts was that at 5'8'', Lavergne was simply not big enough to play in the NHL. Oddly enough, this was before players such as Martin St-Louis burst onto the scene showing that size in fact does not matter. Even though Lavergne's plans were to continue to develop his hockey skills, he was sidelined with a torn ACL, thus ending his future in hockey. If the injury had occured in today's medical world, he would have only lost a year and could have resumed his hockey career. However, some say everything happens for a reason and it was while recovering from this devastating injury that Lavergne discovered his true talent : beatboxing. Despite his new passion for beatboxing, Lavergne was still determined to assert himself in sports. He continued playing the sport that was his true passion : volleyball. Even if hockey was his initial sport, he never considered it to be an intelligent sport. As he would put it "you pass the puck, shoot the puck and put it into the net!". He found practices not cerebral enough and extremely repetitive compared to volleyball : a thinking man's sport. He began playing volleyball while in highschool and eventually developped his skills as a setter and was skilled enough to start for the CUSB Voyageurs of the Manitoba Colleges Athletics Conference. Having been spurned by the University of Manitoba and the University of Winnipeg due to his diminutive stature, CUSB took a chance on the gritty athlete. Their recruitment paid off as Lavergne took the CUSB to heights they had never seen. Starting off his career as a backup setter, his tenacity and aggressive net play earned him the title of starting setter for the remainder of his university career. Even though he was only 5'8'', he was able to play the ball above then net in this big man's game. Lavergne never let his height restrict his ambition. Once he finished university, he became a successful teacher at the same highschool that he attended. He presently teaches at College Gabrielle Roy and runs an extremely successful volleyball program which medals at the Provincial Championships almost every year. Despite never having repaired his knee, he can be seen asserting his dominance while playing intramural floor hockey with students at lunch hour. He still proves to be a magical player and one can truly wonder what could have been for this former Junior B hockey player.
The Discovery of the Beat
Upon injuring his knee in 1986, Lavergne, discovered a hidden skill while at home recovering. He would recreate his favourite songs such as Tainted Love and Sweet Dreams by using only his vocal chords. After all, what else was he to do for three weeks off of his feet. As bad as the timing of his injury was, the discovery of his new talent was set in an ideal time. The beatboxing world was just about to burst onto the music scene and was in desperate need of a household name. Afer entering a local competition in Winnipeg at the Pyramid Cabaret, he easily became the city's best. In the spring of 1987, Winnipeg's Golden Boy of beatboxing made his way to Ottawa, Ontario for his first Canadian National Champtionship of Beatboxing. He placed a very respectable 7th place out of the country's top 50 beatboxers. This was better than expected for the young man who had only one other competition under his belt. Certainly, the caliber of beatboxers is nowhere near that of today's superstars but this catapulted Lavergne's career into the spotlight.
The Beat takes off and a star is born
After a solid year of vocal training and local competition, Lavergne returned to the 1988 Canadian National Champtionship of Beatboxing in Vancouver as a more seasoned 20 year old. His last attempt at national glory was thwarted by his inexperience and lack of identity. Shortly before the 1988 nationals, he adopted a stage name that would forever be remembered in the beatboxing world : !Meeshell!. He put on an unforgettable performance in Vancouver and was crowned Canadian Champion by a unanimous decision. !Meeshell! has been given credit for raising the leverl of beatboxing in Canada by showing that a prairie boy could keep up with Detroit, New York and L.A. He would win the Canadian National Champtionship each year until being defeated in 1995 by Kenny "beatboi" Walls. This feat has never been duplicated in Canada. The world stage proved to be more challenging for !Meeshell! and the victories did not come as easily. At the 1988 World Championship of Beaboxing in Germany, he came in 5th place. He demonstrated his displeasure during an incident with local media by using refusing a post-performance interview (an act strictuly forbidden by the International Beatboxing Association) After appologizing to the IBA and the loca media, he granted an interview and vowed to be back and to become the best in the world.
True to his word and similar to his parallel volleyball career, the little man playing a big man's game trained hard and returned to the 1989 World Chamionship of Beatboxing Stockholm, Sweden. He won this event in a split decision just narrowly beating Danny "Beattrain" Keenley of New York. He was intantly a household name on the world stage of beatboxing. He followed up his 1989 championship with another split decision in Madrid, Spain in 1990 however this time losing to now archrival Danny "Beattrain" Keenley. He returned to the 1991 championship rich with experience and easily won the competition in New York City. He was the world's first multi world champion of beat boxing. Several record company executives approached him regarding a potential recording contract. The timing was simply not right as !Mishell! had new objectives. The follwing year, with limited training and practice due to his teaching career and his young family, he narrowly won the 1992 World Championship in Berne, Switzerland. Some believe he won based his reputation and adoration by fans rather than by his skill and performance. !Meeshell! never denied that this was not his best performance and unfortunately, it was his last international event. By then, !Meeshell! was about to being his teaching career. Kowing full well that beatboxing was not a sustainable career and that his job would not allow for travel to international events, he returned mainly local performances. Winnipeg was thrilled to have such a big name perform regularly. This way, he was able to earn a living, raise a family and help develop his wife's dance academy. On a side note, travel Winnipeg reported a small influx of travellers coming in from all over the United States to catch his regular performances at the Pyramid Cabaret and the Underground Club in Winnipeg. He eventually left the local beatboxing scene all together in 1997 to focus on his teaching career and his second love : coaching volleyball. Beatboxing had run its course and that it was a nice ride while it lasted. He only keeps one souvenir of the era and that is his long flowing hair that covers the back of his neck. He would sometimes beatbox for his students as a reward but has since stopped this practice. The requests became so overwhelming that most days, Lavergne had difficulty getting to the lunchroom without a mob of students wanting their daily entertainment. He has since disassociated himself totally with the name !Meeshell!. However, students that still remember his career or ones that know the legend will refer to him as Mister Meeshell. Lavergne definately dislikes this moniker and shows his displeasure when called Mister Meeshell. However, this is to be expected as legends never die.
In conclusion, one could only speculate how much money he could have made if he were a bit younger. As anyone who follows the beatboxing scene would attest, prize money and endorsements were simply nowhere near where they ended up in the late 90's to early 00's. When !Meeshell! won his first Canadian National Title in 1988, there was no $25,000 cash prize or any deals with Shure, mic(ism)or even Halls. His richest victory was a $2,000 cheque for his 1991 victory in New York in 1991. This is unreal by today's standards considering he is still the only man ever crowned world champion in multiple years. However many believe that beatboxing community would embrace him should he decide to return. If this legend really wanted to make a comeback on the beatboxing scene, that he could challenge today's superstars like the Godfather of Noyze : Rahzel, Joel Turner, Biz Markie, Scratch and even Greg Nice. He may be able to compete with theses superstars in 2008 but one thing is certain, !Meeshell! in his prime would "out beat" them all the way to Detroit.
Here are a few rare clips of past performances by Michel "!Meeshell!" Lavergne :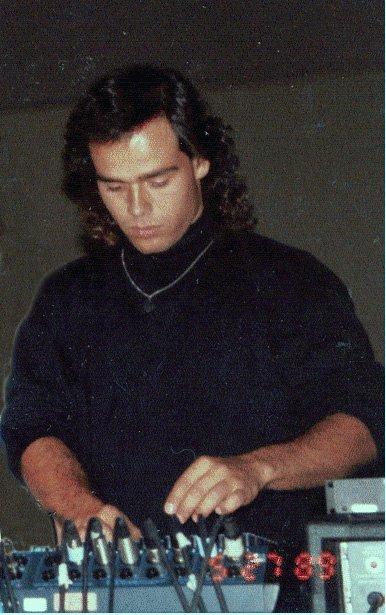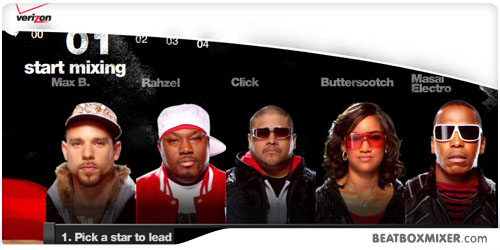 Who could forget his logo?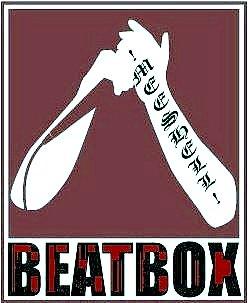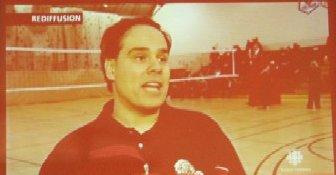 Despite being more low key than in his beatboxing days, Michel Lavergne is still very visible in his community.